Carriers
TriumphPay provides tools for carriers to submit invoices and get paid directly from their broker.
Manage Your Payments
Upload Paperwork from Anywhere

Capture your documents and send them to your broker or back-office admin from anywhere, at any time

Visibility Into Your Payment Status

You have access to the status of your payments in real-time.

Easy to Use Invoice Management

The freedom of knowing how and when you're paid is as important to us as it is to you.

Paying You Fast and Efficiently

We offer the solutions that get you the money you need, faster than ever.
TriumphPay Mobile App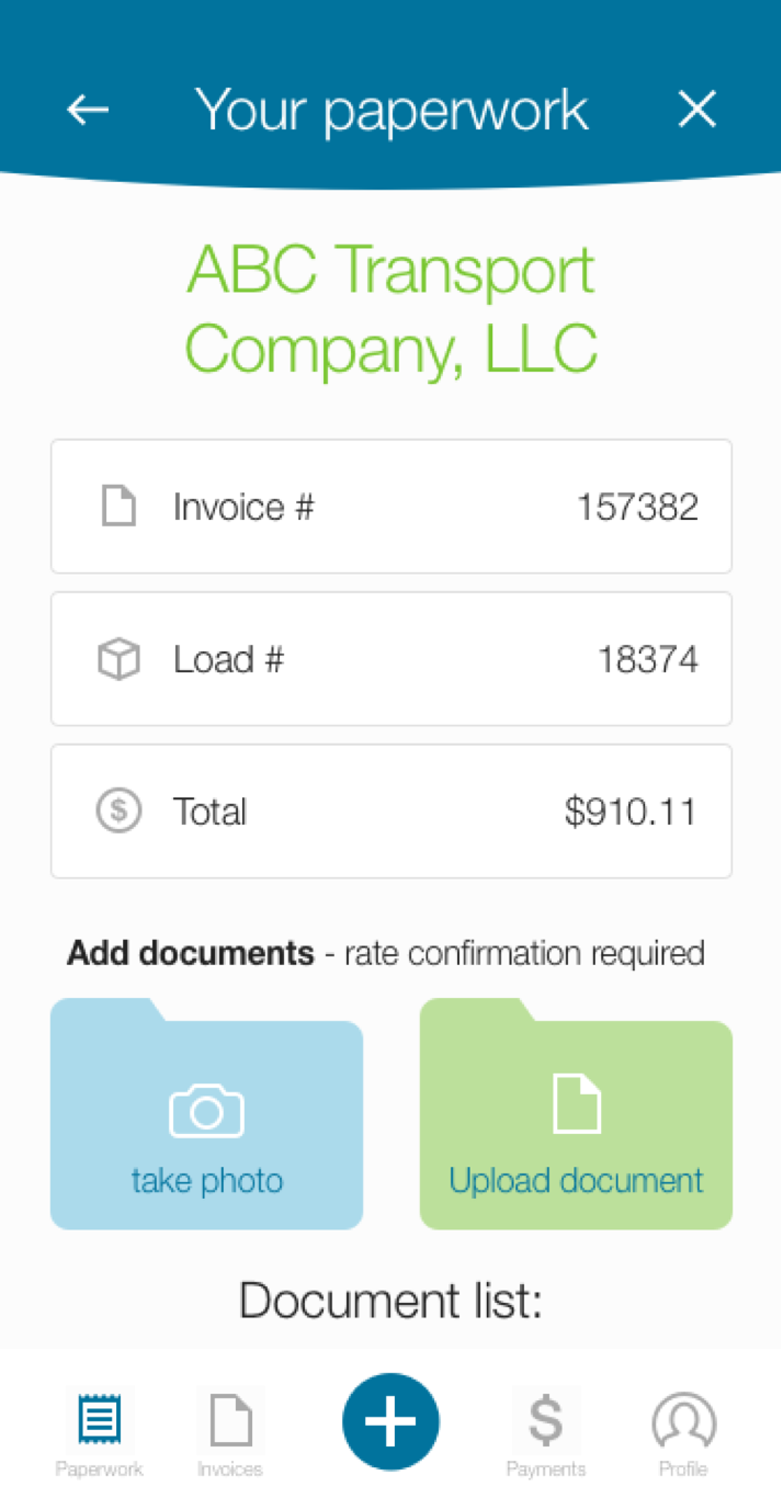 TriumphPay Mobile App
Upload and Submit Documents
The TriumphPay mobile app allows you to upload and submit your paperwork from anywhere on the road.
Manage Your Invoices
Create invoices from within the TriumphPay mobile application.
Check Your Status
Log into the TriumphPay app 24/7 to see the status of your invoices and payments throughout the process.
Giving You the Freedom to Grow
With TriumphPay, you'll see a two-day turnaround on QuickPay terms. Choose QuickPay on an invoice by invoice or broker by broker basis without long-term contracts.
Get Connected

Accept the invitation from your broker to set up payments through TriumphPay and securely verify your information.

Get Paid

Choose your default payment term, such as QuickPay or
Standard Pay.

Payment Options

Pick from a list of industry-standard payment methods – ACH, Check, and Wire.
"TriumphPay has a super-easy way to submit my invoices and supporting documents. Getting paid for the loads I deliver is seamless and I can always rely on my deposit to be there, exactly as stated. TriumphPay services make my accounts receivable easy."

Richard Rowan

Broken Rack Trucking LLC / Bloomingburg​, OH

"Whenever we have questions or concerns, TriumphPay has wonderful and helpful customer support!"

Gwen Burch

Pope Trucking, Inc. / Pearson, GA

"We are very pleased with TriumphPay. I appreciate all the hard work and dedication it takes to get invoices sent and paid in such a timely manner. Continue the good work and we look forward to many more years with Triumph."

Sally Simpkins

Tradition Transportation Company, LLC / Angola, IN

"Being notified as soon as payments are being schedule for payment before being notified the day it's paid helps us control our A/R."

Carrier

10-100 Trucks

"The support is wonderful. Quick answers to any questions I have."

Carrier

10-100 Trucks

"The companies that I use that have TriumphPay have a pay system that is easy to use for owner operators, with less hassle than "in house" accounting."

Carrier

10-100 Trucks

"Easy to work with. Professional and intuitive interface. Fast processing."

Carrier

10-100 Trucks

"Great user friendly web site and on time payments."

Carrier

10-100 Trucks